« Manitoba | Main | Manitoba to North Dakota »
June 07, 2005
Spirit Sands Provincial Park
Greetings to you all
One of the neatest things about travel is finding something special you have never heard of or didn't know existed. That is what happened is this case and so it's a treat for us to bring you this chapter of Whites RV Journal.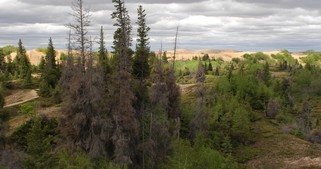 In south-central Manitoba is Spruce Woods Provincial Park and its feature attraction is the desert called Spirit Sands. "In aboriginal beliefs, the cardinal points – east, south, west and north – were more than directions. Each orientation is of special significance on the Medicine Wheel: a symbol of life and the universe that has many interpretations. One view identifies the East as the Place of the Beginnings; South, the Place of Plenty; West, the Place of Endings and North as the Place of Wisdom. Many other aspects of life and the world are represented in the oneness of the Medicine Wheel. The somewhat circular shape of the Spirit Sands is reminiscent of the Medicine Wheel. Since the landmarks ahead may not be as familar to you as they were to early travellers, take your bearings from this platform and establish some benchmarks for the hike ahead. You are about to enter the Spirit Sands from the east or east gate."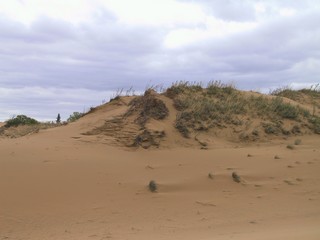 Although technically not a desert because it receives double the amount of annual rain/snow allowed for a dessert, Spirit Sands is in all other repects a dessert. Originally over 6500 square miles, the last reamining obvious section is only 4 square miles, as nature reclaims the area with first the growth of grasses, then shrubs and finally forests. As we walked through it on a cold blustery day, it was easy to understand how you can get lost in a dessert.
Here are a selection of photos for your enjoyment.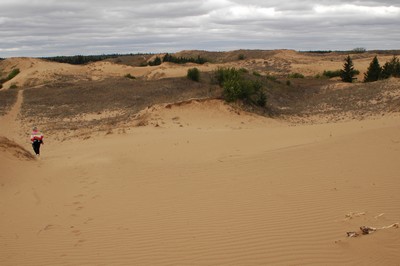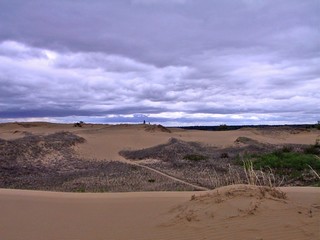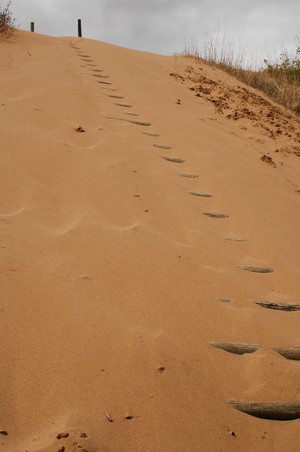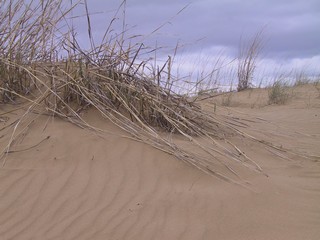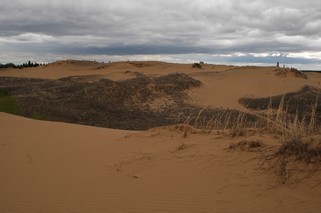 Posted by Ross at June 7, 2005 05:55 PM
Comments