« Manitoba to North Dakota | Main | Some more pictures of Yellowstone »
June 18, 2005
Montana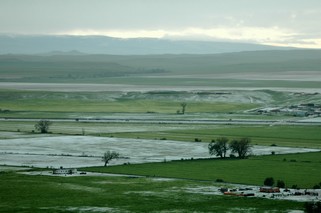 Tuesday morning, May 31th, we headed west on the Interstate into Montana in the pouring rain. From Billings Montana the next day we went to the Little Bighorn Battlefield Historic Site, where the battle between the US 7th Cavalry (General Custer) and the Sioux, Lacota and Cheyenne Indians took place in 1876. The tour provided by a Crow Indian guide at the site was very interesting and informative as it was presented from the perspective of the Indian. While we were there the most spectacular storm arrived. We were in the visitor's centre attending a presentation by a park ranger and watched its progress across the valley with wild winds, heavy rain and hail. Initially we could see about 18 miles and when it finally arrived we could see only a few hundred yards. Unfortunately, the camera was in the truck so no pictures. After it passed, we went back up the trail and took some pictures of the hail that had come down. It looked like it had snowed.
We had considered going to Yellowstone over the Beartooth Pass, but in the 10 days before there had been 12 landslides covering the road. The state does not expect it to be open all this summer and will take about 20 million dollars to repair. That's how much rain they have had this spring but everyone is still saying that it is not enough as they have had a 5 to 7 year drought.
From Billings on Thursday we went west and then south at Livingston through Paradise Valley. It is a wonderful green and fertile valley between two mountain ranges. For the next couple of nights we stayed in Gardiner at the north entrance of Yellowstone Park and then stayed for two nights in one of the park campgrounds.
Yellowstone is an amazing place. The north is mountains, wide valleys and sweeping hills; south is lodge pole pine, geysers, hot springs and mud pots and the center is a beautiful deep canyon and more hot springs. Then there are waterfalls seemingly whereever you look. We actually had sun on Saturday afternoon and Sunday.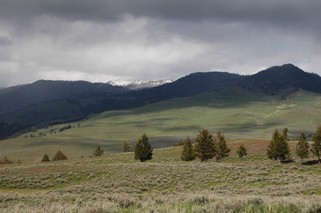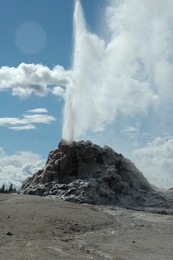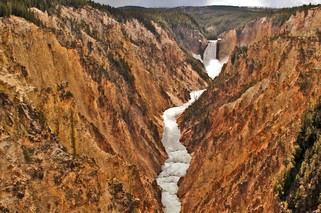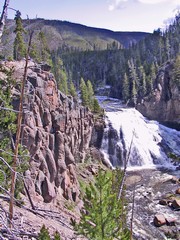 There are animals everywhere; some singly some in herds – buffalo, elk, mule deer, mountain sheep, bears, a coyote and a bald eagle.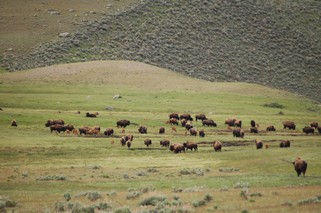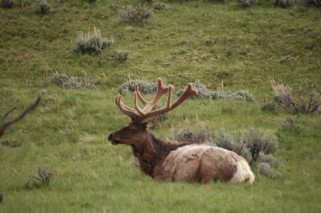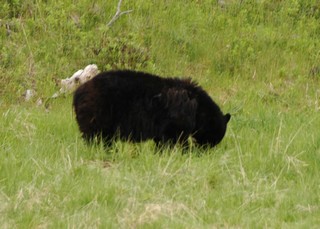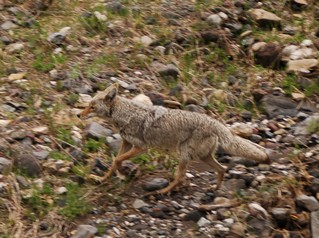 We left Yellowstone Monday morning June 6th. Again it was raining and cold and we decided to only travel just outside the park to West Yellowstone to have a day of rest. We had had a few very busy days in the park as we had hiked numerous trails to see the various points of interest.
At this point we were extremely tired of the rain and cold. Tuesday morning we woke up to a snow storm and had to scrape snow off the steps when we went outside. That confirmed our inclination. We decided to head into southern Idaho and the Snake River Plain to try to find some warmer weather. After that we will probably go further south into northern Nevada as we have never been to that area. The weather channel says that we should find some sun – we hope so.
Ross & Bernie
Posted by Ross at June 18, 2005 05:07 PM
Comments