« Trip #2 - Toronto to Winnipeg | Main | Spirit Sands Provincial Park »
June 02, 2005
Manitoba
We arrived in Winnipeg on Thursday May 19th. We planned on being there for the long weekend as there was a model railroad convention that Ross was attending and Bernice was attending the Spectra staff BBQ on Friday. Spectra is the Property Management software system that Bernice's former employer has used for about 6 years.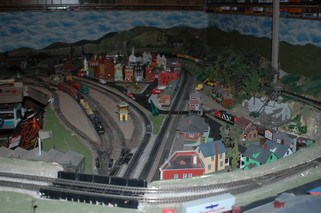 Friday was glorious – sunny and hot ( about 31C ). In the afternoon we went to the Forks in Winnipeg. It's where the Assiniboine and Red River meet right in the heart of the city. It was the old CN rail yards and the buildings and grounds have been converted to a wonderful recreation area. Thank goodness we went there on Friday as Saturday was a constant downpour – flooding a lot of the low ground
Some of the weekend was spent visiting model railroad layouts, seminars and a group supper. There were about 290 registrants from as far away as Austrailia.
We went north on Sunday to Grand Beach on Lake Winnipeg listed as one of the 10 best beaches in North America. On the way north we came upon a magnificent Ukranian Catholic cathedral built in 1933 in the little town of Cooks Creek.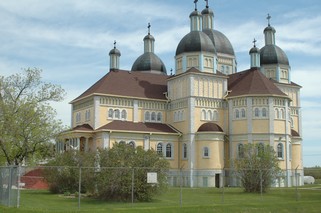 Winnipeg itself has hundreds and hundreds of elm trees. Many are banded with metal that apparently is an attempt to prevent the carriers of dutch elm disease from infecting the trees. Also, all over the area you see signs "Prevent Dutch Elm Disease" "Do not burn elm firewood". The "Service Brake System" warning light came on for the second time (the first while we were still in Ontario), so Tuesday AM Ross was at a local Chev dealer. Everything's OK now, but you want good brakes when you're pulling a 6 ton trailer at 100 kmh.
Wednesday we left for Spuce Woods Provincial Park in south central Manitoba to see the desert (ya right) there. We'll have a complete seperate photo report of this beautiful area next.
Posted by Ross at June 2, 2005 11:14 AM
Comments
Interesting mention of 'the desert'; got pictures recently from daughter in California where Death Valley blooming this year because of heavy rain.
Posted by: carrbob at June 4, 2005 02:26 PM
Hi folks,
In case you are saying to yourselves, "who the heck is Marty & Christine?", we met during your contents sale and purchased your audio equipment. Just wanted to take a moment to say hi and thank you for sharing your travel stories with us. Sounds like retirement is agreeing with you. You are so fortunate (and wise) to have chosen to see the landscape by road and am sure the images you come across will be ingrained forever in you minds. We are jealous however, look forward to our own plans taking effect in about 6-8 years when we will be in a position to pack it up and head this way and that way. Keep the mail comming, keep enjoying, stay healthy !!
Warm Regards,
Marty & Christine
Posted by: Narty & Christine at June 4, 2005 03:08 PM