« Home for awhiile | Main | Manitoba »
May 31, 2005
Trip #2 - Toronto to Winnipeg
It's quite a feeling to drive away from Toronto knowing that we do not plan to be back for about 3 1/2 months and we are starting on a long adventure.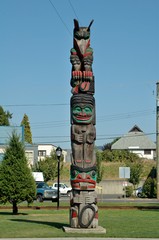 There is apprehension, anticipation, trepidation, excitement and a whole lot of other big words but probably the main feeling is "Here we go!"
We headed north and the first night stayed just south of Sudbury as it was raining quite hard. In the morning we visited the Big Nickle then continued west.

Over the next few days we continued on Highway 17 through Sault Ste. Marie, on to Wawa and the statue of the Canada goose.
As we checked into a roadside campground just west of Marathon, we met a young man from Montreal who is bicycling across Canada and back this summer. He left before us the next morning and by the time we caught up to him, he had pedaled 50 kilometres (in two and a half hours) of tough up and down terrain on the Trans-Canada highway.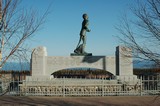 We arrived early in the afternoon in Thunder Bay in order to do some sight seeing and guess what … it was actually sunny. A walk around downtown, some shopping and then a visit to the Terry Fox memorial, at the spot on Highway 17 where he was unable to go further. The small park includes a beautiful statue of this courageous young man, with a number of tributes such as his Order of Canada. Bernie said the visit felt like a pilgrimage. We all need to remember his efforts when we think we're not doing well.
The next day we had lunch in Ignace, which according to the Ontario roadmap has a population of just 8. It seems to be a typo because it's actually around 1500. On to Dryden where we had our first Tim Horton's since leaving Sudbury. In the north, Robins Donuts and A & W are the big name franchises. Now in the Central time zone, we stayed outside Vermillion Bay and the next morning (Thursday) stopped in Kenora on Lake of the Woods. Very beautiful area … the Canadian shield rock was starting to give way to farming and rolling hills.
One last segment through eastern Manitoba brough us to a campground in Winnipeg by mid afternoon. Overall this segment has been cold and gray and we are hoping for some sunshine. Winnipeg is generally soaked. The grass at our campsite was under water – only the gravel parking area was reasonably dry.
It's hard to believe when you have spent all your life in southern Ontario but there is NO TRAFFIC in the north. We travel at about 90 kms and in one 2 hour stretch only 10 or 11 cars passed us heading west and we sometimes went 10 minutes between oncoming eastbound cars. You really have the road to yourself!
R & B
Posted by Ross at May 31, 2005 05:00 PM
Comments
Sounds like you are having fun. Winnipeg could not possibly have more rain than we have had!
Like the updates, keep them coming!
Steven
Posted by: Steven Graham at June 1, 2005 09:46 AM
Hello R&B: If your names get any smaller, I'll think I'm talking to a couple ghosts - ha, ha!
And considering, you keep disappearing on these trips, maybe you are.:)
Sounds like you are enjoying yourselves despite the wet weather. I think I would feel a little lonely in a place with so few cars. That is pretty sad eh, considering we are always complaining about the traffic in the city. If you ever pass through Sudbury again you can yell a hello to my aunt & uncle. He used to be a miner and is happily retired as well. The nickle is neat to see, but you really have to go down the shaft into the mine to get the true feel of their life there. We did once in our travels.
Anyway, have fun and keep me posted.
Betty
Posted by: Betty Mann at June 1, 2005 10:47 AM
Hi Bernice!
It's Susan from the Monday night painting class. My husband and I are really enjoying your updates. It is almost like we are there with you. Hope you are getting a chance to do some painting. Enjoy yourselves!
Posted by: susan hershkop at June 1, 2005 12:50 PM
I'm living your adventure in my mind, Happy and safe travelling. The Postman
Posted by: The Postman at June 1, 2005 01:28 PM
Your journal was a great idea. It must be exciting having that type of freedom. The photos are great as well. Thanks for sharing with me.
Posted by: Dameon Okposio at June 1, 2005 04:38 PM
Ross & Bernie
Sounds like you are enjoying yourselves. Keep it up!
You were talking about the Terry Fox statue on Hwy 17. I had dinner at a Granite Club function with the German descent fellow who lives in Mississauga or Oakville who designed and created the statue and he had just returned from installing it along the highway. I think his name was Gerhard or something like that. He was a guest of a blonde who lived on Dunvegan Rd. As I recall that was the night they had The Merrymen for entertainment.
We are expecting our first really warm weekend here in T.O. so you haven't miss much in the weather department. Is Bernie doing any painting along the way?
Posted by: Peter Lightfoot at June 1, 2005 05:07 PM
sounds and reads like you have made the right decision and are having a fine old time. I'm really enjoying getting your journal.
Ever consider the fact - hardly any people hardly any traffic?
keep em coming
be well and keep your eyes on the road!
Lorrie
Posted by: Lorrie at June 1, 2005 05:52 PM
Hard to believe you didn't wind up behind a single logging truck in Ontario north... may the gods continue to smile on you. Bob in Tarana
Posted by: carrbob at June 2, 2005 08:57 AM
Ross:
Sounds like your having a great time. I think I'm going to work on freedom 55 so I can do start doing some traveling. Love the updates. Keep them coming.
Drive safely and have fun
Bob Hall
Posted by: Bob Hall at June 3, 2005 09:20 PM