« March 2005 | Main | June 2005 »
May 31, 2005
Trip #2 - Toronto to Winnipeg
It's quite a feeling to drive away from Toronto knowing that we do not plan to be back for about 3 1/2 months and we are starting on a long adventure.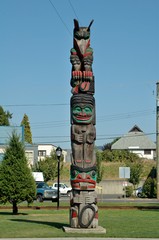 There is apprehension, anticipation, trepidation, excitement and a whole lot of other big words but probably the main feeling is "Here we go!"
We headed north and the first night stayed just south of Sudbury as it was raining quite hard. In the morning we visited the Big Nickle then continued west.

Over the next few days we continued on Highway 17 through Sault Ste. Marie, on to Wawa and the statue of the Canada goose.
As we checked into a roadside campground just west of Marathon, we met a young man from Montreal who is bicycling across Canada and back this summer. He left before us the next morning and by the time we caught up to him, he had pedaled 50 kilometres (in two and a half hours) of tough up and down terrain on the Trans-Canada highway.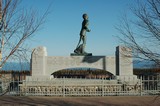 We arrived early in the afternoon in Thunder Bay in order to do some sight seeing and guess what … it was actually sunny. A walk around downtown, some shopping and then a visit to the Terry Fox memorial, at the spot on Highway 17 where he was unable to go further. The small park includes a beautiful statue of this courageous young man, with a number of tributes such as his Order of Canada. Bernie said the visit felt like a pilgrimage. We all need to remember his efforts when we think we're not doing well.
The next day we had lunch in Ignace, which according to the Ontario roadmap has a population of just 8. It seems to be a typo because it's actually around 1500. On to Dryden where we had our first Tim Horton's since leaving Sudbury. In the north, Robins Donuts and A & W are the big name franchises. Now in the Central time zone, we stayed outside Vermillion Bay and the next morning (Thursday) stopped in Kenora on Lake of the Woods. Very beautiful area … the Canadian shield rock was starting to give way to farming and rolling hills.
One last segment through eastern Manitoba brough us to a campground in Winnipeg by mid afternoon. Overall this segment has been cold and gray and we are hoping for some sunshine. Winnipeg is generally soaked. The grass at our campsite was under water – only the gravel parking area was reasonably dry.
It's hard to believe when you have spent all your life in southern Ontario but there is NO TRAFFIC in the north. We travel at about 90 kms and in one 2 hour stretch only 10 or 11 cars passed us heading west and we sometimes went 10 minutes between oncoming eastbound cars. You really have the road to yourself!
R & B
Posted by Ross at 05:00 PM | Comments (9)
May 28, 2005
Home for awhiile
We returned to Canada on April 20 and spent a couple of days near Windsor visiting Bernie's sister Joan and then on to the Milton KOA in time to help celebrate Kim's (Ross's niece) 30th birthday on the 23rd.
It's amazing how fast 3 weeks goes. However, when you have dentist, doctor, accountant (yes, taxes), family, friends, visits to previous employment, truck maintenance and catching up on mail that had piled up, it just sails past.
Our first trip was what we called our "shake down". Well it worked. Happily, we had no problems with the trailer and found that we were both getting more comfortable every day with it. We did find out that there were a number of things that we could remove. We learned that we don't need 8 place settings of dishes or cutlery – we wash the dishes every day and if we have more than 2 additional people for a meal there are paper plates or the guests bring their own. We also don't need as many clothes as we had taken. We run out of the essentials and need to go to the laundromat before we run out of slacks and tops. So – three boxes of "stuff" went to the storage locker.
Bruce Brown arranged to have a custom hitch manufactured while we were away and we had it installed during our time at home. Now we can carry our bikes with us. While travelling they are on the back of the trailer but we can put them on the hitch on the truck if we want to take them when sightseeing.
We also had solar installed. Our hope is that this will allow flexibility in where we can stop and set up. Not only does it charge our batteries for 12V DC use but with the inverter installed, we have 120 Volt AC power as well. Our lights and stereo run on 12V but most everything else (TV, toaster, coffee maker, microwave, etc) is 120V. We haven't had much chance to try it out yet but when we do we'll let you know if it works like we hope it will.
We did do a little local sightseeing while in the area and stumbled across a neat restaurant in Guelph that is worth a visit. It's on Cork St., right downtown and is called Salsateria. It's a combination of Chilean and Mexican food, prepared on the premises by the owner who is from Chile. We loved it.
Friday the 13th we helped celebrate Barnaby's birthday ( it is actually on the 23rd but we won't be in Toronto then) at the Harbour Castle. On the 14th we headed out, met Barnaby and Michelle at Tim Horton's on Weston Rd for a final goodbye, and were on the road to the west for TRIP #2.
Posted by Ross at 12:02 PM | Comments (3)
May 22, 2005
Talladega Motor Speedway
Talladega Motor Speedway and Racing Museum is one of about 20 NASCAR racetracks, primarily located in the southern states. The track is used only twice a year (spring and fall) for 2 days each. In typical American style it's almost bigger than life, seating 143,000 people on raceday, plus space for 2000 RV's on the infield. The overall area is 2400 acres, with camp grounds and parking lots for all the fans. Average ticket price for 2 days is about $150. If you do the math you'll realize the gross for one weekend is a little higher that My Office / Your Office grossed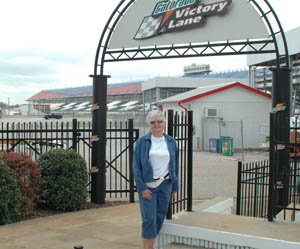 in its first ten years. Maybe the new owners at the store, Margaret and Mike Corbett, can work smarter than I did and get close.
It is the only NASCAR racetrack to have recorded speeds over 200 miles per hour for the entire 500 mile race by all competitors (slowest 202, fastest 212±). The race typically
begins with 3 columns of cars, 15 rows deep (45 cars) 12" apart at 200+ mph. A typical lap takes 46 or 47 seconds for the 2.66 mile oval track.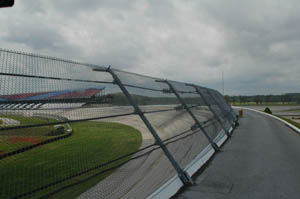 As we took the tour, our guide pointed out that the corners are banked at 30°'s and it is necessary to drive at speeds above 100 mph is order to stay up on these banks. A few weekends ago was the spring race and there was a 16 car pile-up on Saturday and a 26 car mess on Sunday during the Busch series event. On every radio and television station we listened to, there were reports about NASCAR, in the same way there is NHL hockey news (some years I mean), in southern Ontario.
The granddaddy of NASCAR is the Daytona 500 in Florida. Just once, one day Bernie and I will be there on raceday at one of the tracks. It's an awesome place even on just the tour. If you're ever in the area it's well worth your time to visit.
Posted by Ross at 02:47 PM | Comments (3)
May 15, 2005
Cape Hatteras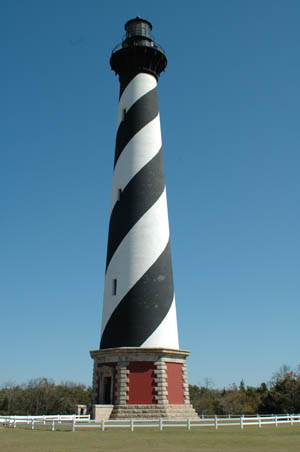 The Outer Banks of North Carolina - perhaps the world's biggest sandbar - are quite beautiful. The area, and the lighthouse at Cape Hatteras, are very famous. Orville and Wilbur Wright carried out their first successful flight, at Kitty Hawk in the Kill Devil Hills there. Every year during the U.S. hurricane season, the Cape Hatteras lighthouse is a major watch point for pending storms.
For those of you in real estate profession, there are dozens (maybe 100's) of $1,000,000 homes along the ocean front for a hundred miles. Many have apparently been built on speculation and are either for sale or for rent. Super home is the only way to describe them. Interestingly, most homes in this area are built on stilts, so the hurricane winds and water can go right through underneath.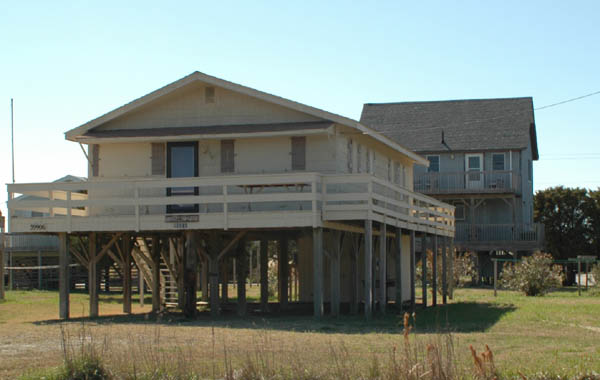 The lighthouse at Cape Hatteras, over 200 feet tall, was build in the 1850's and was 1,500 feet from the Atlantic shoreline at that time. Over the last 150 years, the power of the ocean has eroded the shore and in 1999, they moved the lighthouse (by that time only 150 feet from shore), the 2 two lighthouse keepers' houses and a variety of other buildings 2900 feet to a location 1,600 away from the Atlantic.
There was a documentary on the Discovery Channel about the move, but if you missed it (as Bernie and I did), they excavated under the structure, supported it on 3 levels of steel cribs and moved it at about 2 feet per hour down a specially built roadbed to its new location. The structure was wired to warn of any problems and the move was so well done the tower was never more than 1° off vertical

Using GPS and satellite measuring systems, it has now been shown that the entire area of the Outer Banks is being pushed by the ocean closer and closer toward the mainland shore.
We'll go back to the area someday and spend more time there. There's lots to see and do.
Posted by Ross at 11:36 PM | Comments (6)
May 13, 2005
CHAPTER 2 – TRIP #1
Hello again … and welcome back to the saga of 2 recent retirees, on the road. We've completed 'the shakedown cruise'. Ten states plus Ontario, 26 days, 6714 kilometers and WE'RE STILL MARRIED.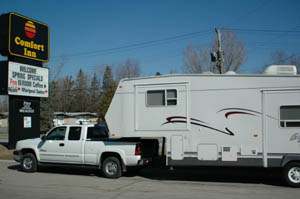 With all the post 9-11 publicity about how hard it is to get into the U.S., we had allowed two hours to get across the border. At the Thousand Islands bridge, we stopped first at Canada Customs to register all the cameras, TV's, radios and scanners and other electronics in the trailer. Upon presenting a full page list of stuff, single spaced, to the Canada Customs inspector; we waited a moment for him to read it and then come to the trailer for an inspection. He had a quick look, stamped it and wished us a safe trip - in total, about 2 minutes and he never got out of his chair. Across the bridge to the U.S. side, no line-up, to the inspection there. We presented our passports, were asked how long we planned on being there and if we had any alcohol or tobacco. That's all folks - no inspection or anything - in total about 1 minute. Boy was it tough.
Visits with family and friends, great scenery, 26 kilometers of single lane Interstate with concrete barriers on both sides with no passing lanes or pull offs. I certainly learned how to steer our big rig and had to back in to our campsites 3 times - and I made it. Phew!!!
Three or four highlights stand out - Cape Hatteras and the Great Smokey Mountains in North Carolina, Talladega NASCAR Speedway near Birmingham Alabama and FDR's Little White House in Warm Springs Georgia. Stay tuned for some details.

Posted by Ross at 06:45 PM | Comments (7)